Play the Hearing Dogs Weekly Lottery and win up to £10,000!
Match three numbers and you win £5. Match four, you get £25. Five numbers wins you £1,000. Match all six and you win a positively paw-dropping £10,000! How pawsome is that?
It costs just £1 per week to join, or you can pay £2 per week or even £3 for more oppawtunities to win. Simply click the 'Play now' button to join, and ensure you never miss a paw – sorry, draw. If you're a lucky winner, we will notify you automatically so there is no need to claim, and your winnings will be paid direct into your bank account. It really is that simple!
How you'll be helping when you play the Hearing Dogs Weekly Lottery
We want to see the day when no deaf person feels alone. This is why we train highly skilled dogs that provide love, companionship and emotional support. As importantly, they alert deaf people to life-saving sounds like the smoke alarm and intruder alarm, and other important sounds such as the oven timer and baby monitor.
By taking part, you'll be helping deaf people like Sarah.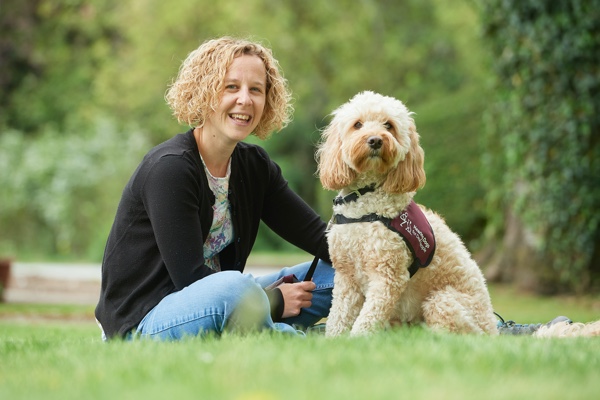 Sarah and hearing dog Jack
Sarah is a sociable person, but her hearing loss has made interaction difficult. Conversation in groups is hard to follow, so before she got her wonderful hearing dog Jack, she just found it easier to do things by herself.
Nothing fazes Jack and he spreads happiness every day. Jack means the world to her. When he's not with her, she feels a part of her is missing. He makes Sarah feel more confident in company, and with Jack she's never alone. So much happiness, so many people... she feels privileged to be the one who was matched to this special dog.
Thank you for your kindness – and good luck!